Sixty years ago, in 1958, our father Julián Tejeria began working in a workshop in Tolosa. It manufactured machinery for the productive paper industry of that time established alongside the River Oria, the valley through which the N1 road runs.
Our father was just 15 years old and the work was never ending: Gipuzkoa, the smallest province in Spain, produced more than 30% of the paper of the whole country. Julian soon went on to manufacture envelopes, without abandoning the development of the machinery that made them possible.
In 1981 he created his own company with José Ángel Rezola. He called it Zelatun, in memory of one of the green landscapes in the district of Tolosaldea frequented by mountaineers.
Zelatun was created to give shape to Julian's vision of what an envelope factory should be: a company founded on a philosophy of a maximum quality product and direct contact with each and every one of the customers.
The Zelatun of 2018 has evolved compared to the company of 40 years ago: It currently employs almost fifty people and occupies a 6,000 m square metre plant in Albiztur, a small town in rural Gipuzkoa. We, Jon and Julen, Julián's children, now run the company and we have instigated its latest modernization process. Zelatun has grown but the principles on which its reputation has been forged have not changed: Hard work, product excellence, independence and the values of a family business that continues to carry our surnames.
Years ago, our father told us about the light that shines from a box full of newly manufactured envelopes. This phenomenon happens when each and every one of them is perfect. It happens when the machinery has been calibrated meticulously. When you know the secrets of your trade. When you personally get involved in what you do. When you believe that each and every one of the envelopes you make is important.
At Zelatun we look for that light every day. In all the envelopes. In all the boxes.
For all customers.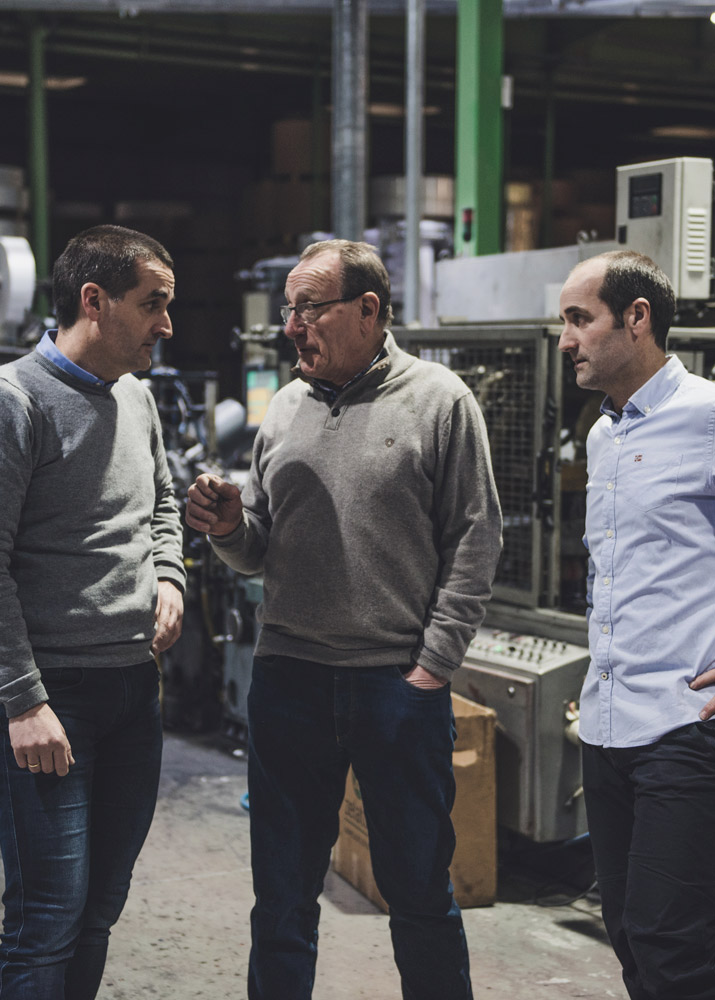 Julián Tejeria, in the middle, alongside Julen and Jon, current managers of Zelatun.